Pharmaceutical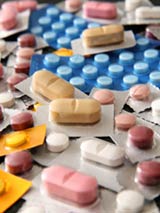 RS Hydro has been supplying and installing flow and level measurement systems in the pharmaceutical and chemical-handling industries since the company's formation. We believe that successful project management should be based on the entire experience of a company with engineers who understand the needs of the customer and the latest legislation. Monitoring instrumentation is regulated by several organisations such as the 3A, cGMP, EHEDG and the FDA.
RS Hydro's range of industry-optimised instrumentation is also available for the chemical, cosmetic and biotechnology industries. RS Hydro offer complete monitoring solutions for facilities monitoring, laboratories, control automation for flow, level, pressure, temperature and water quality.
In an industry where sterilisation is paramount, clamp on flow meters are an obvious choice for flow measurement whether the liquid is ultra-pure or not. The lack of pipe modifications, welds, flanges or joins means that sterilisation is never compromised. Our instruments can be used on any flexible or stainless steel pipework. In addition, our instruments can be provided with ATEX approval for safe area and clean room environments.
Where our instruments are in contact with the process, AISI316L stainless steel, ultra pure ceramic and polymers are used. Many of our instruments are rated to 150°C and some are rated to 230°C.
Typical applications include:
Flow measurement of most liquids and ultra-pure liquids;
Non-invasive compressed air and steam flow measurement - portable and permanent;
Flow, level and temperature measurement of finished product.