Electromagnetic Flow Meters
RS Hydro stock, supply and install electromagnetic flowmeters from one of the world's largest flow meter manufacturers (Siemens) and can be used to measure almost any electrically conductive liquid, paste, slurry, acid or emulsion including fluids with a conductivity as low as 0.5µS/cm with excellent long term stability and accuracy. Temperature, density, pressure and viscosity have no influence on measurement with this type of flow meter. Our modular design of electromagnetic flow meter offers a choice of liner, electrode material and sizes from 10-2000mm. Our magflo meters offer a range of integral, remote or pipe mounted installation setups along with internal battery or external AC/DC power supplies. RS Hydro offer the following range of electromagnetic flow meters: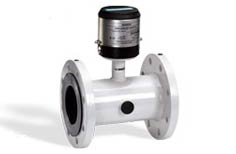 The Siemens MAG8000W is regarded as the best battery powered electromagnetic flow meter on the market with battery life approaching 10 years and with internal self-checking diagnostics and alarm relay outputs. MCERTS certified.
STOCK ITEM
Battery Powered Flow Meters>>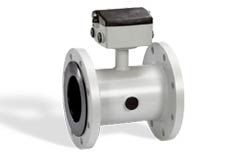 Siemens 1100/3100/5100 flow meters are AC/DC powered providing accuracies of +/-0.25% of rate with a modularised approach to liners, electrodes, pressure ratings and flange types. MCERTS certified. STOCK ITEM
Mains Powered Flow Meters>>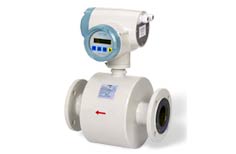 Siemens 911E/Transmag2 flow meters for measuring flows with high solids content up to 80-90%. With AC-driven coils and sophisticated noise filtering, this magflo is without doubt one of the most powerful electromagnetic flow meters in the world.
High Powered Flow Meters>>
AC/DC Powered (Modular Pulsed) Electromagnetic Flowmeters
We supply a wide variety of modular pulsed electromagnetic flowmeters, which can be set. These flow meters contain the unique Siemens SENSORPROM memory unit which can store calibration and transmitter settings for the lifetime of the product. As with all electromagnetic flowmeters, fitting is a simple process with no initial programming required before measurement begins. A wide variety of sensor/transmitter options are available to produce the perfect combination for almost any application. Accuracy of up to 0.25% of flow with MCERTS product certification. IN STOCK

Battery Operated Electromagnetic Flowmeters
With no mains power needed and complying fully with the MID (EU) and OIML R49 water meter standards, this type of water meter is ideal for network distribution, revenue metering and irrigation. MCERTS Certified. IN STOCK
High Powered Electromagnetic Flowmeters
High-powered flowmeters are used for difficult applications where other flowmeters can't stand up to the task: this flowmeter can handle liquids and slurries with very high solid content in industries such as mining, cement and pulp & paper.