Eutech Instruments
pHTestr™ 10 Pocket pH Tester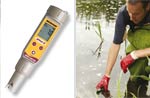 The ph Testr™ 10 is a simple yet effective pocket pH measurement tester, it comes complete with a protective plastic case and lanyard making it easy to use in the field. It is capable of giving accurate readings in varying conditions thanks to Automatic Temperature Compensation (ATC). The large custom dual-display LCD screen enables simple reading of measurements.
pHTestr™ 20 Pocket pH Tester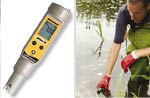 The pHTestr™ 20 is a simple, user-friendly device which accurately measures pH up to ±0.01 pH at 0.01 pH resolution. Automatic Temperature Compensation (ATC) ensures accuracy even in varying conditions.
pHTestr™ 30 Pocket pH Tester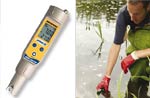 The pHTestr™ 30 is one of the most accurate, handy and user-friendly pieces of equipment in their class. It features a large LCD custom display and provides results with up to ±0.01 pH accuracy with a ±0.01 pH resolution. The casing is IP67 rated and is so light it even floats if dropped into water.
EcoTestr pH 2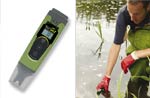 The EcoTestr pH 2 is designed to provide fuss-free measurements on the go, it is ideal for taking quick pH measurments in a range of applications, its measurement range is from 0.0 to 14.0 pull pH range. The meter is covered by a 1 year meter warranty.
EcoTestr pH 1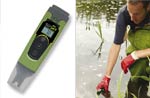 The EcoTestr pH 1 makes taking pH measurements a simple fuss-free process, superb accuracy is delivered by this value-for-money, quality pH tester. Measurements can be handled with from 0.0 to 14.0 full pH range.
ORP Testr 10 (Discontinued)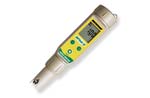 The ORPTestr 10 has the benefit of being designed with advanced microprocessor technology to give accuracy across a wide measuring range even in wet and rugged environments.
CyberScan pH 620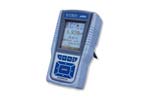 The CyberScan pH 620 measures pH and Ion with up to 0.001 resolution, the wireless and cable free data transfer with infrared IrDA technology. Large easy to read custom display with simultaneous readings provides optimum viewing with user-friendly icons.
CyberScan pH 610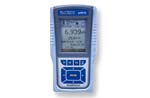 The CyberScan pH 610 provides high accuracy's of up to &plusnm;0.002 at resolution expendable to 3 decimal places. This device is capable of holding up to 500 data sets in GLP-compliant format, all data can be logged at user-set intervals. Housed in a rugged and waterproof IP67 standard casing ensures hardwearing protection which is ideal if continuous monitoring is required.
CyberScan pH 600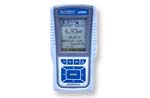 The CyberScan pH 600 features a large comprehensive screen which displays all the information relevant to the user. Complete with advanced wireless communication technology this equipment is ideal to store large amounts of data up to 500 sets on the non volatile memory.
CyberScan pH 310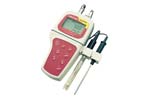 The CyberScan pH 310 is designed to withstand the rigors of rugged harsh field measurement conditions and the demands of laboratory applications. An expanded memory now stores and recalls up to 50 readings with temperature, ideal for use in any environment with guaranteed accuracy thanks to the Automatic Temperature Compensation which provides accurate readings under fluctuating temperatures.