COD (Chemical Oxygen Demand) in Water
Chemical Oxidation Demand (COD) is a test that measures the amount of oxygen required to chemically oxidize the organic material present in water. The most commonly adopted method involves the addition of potassium dichromate and concentrated sulphuric acid to the water sample with oxygen concentration measured before and after. Many governments impose strict regulations regarding the maximum COD that wastewater discharge can exhibit.
LISA - SAC254 Probe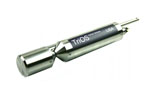 The new innovative LISA-SAC254 probe with UV-LED technology is energy saving with a robust design offering its user flexibility and a long life span.