Chlorophyll Monitoring
Chlorophyll is a green pigment found in almost all plants, algae, and cyanobacteria. High amounts of chlorophyll in a water body are an indicator of nutrient pollution, as excess nutrients fuel the growth of algae.
MicroFlu-chl Fluorometer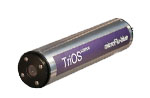 The MicroFlu-Chl is the innovative fluorometer designed to perform high precision chlorophyll fluorescence measurements. This miniaturized fluorometer is ideal for a variety of applications, including algae monitoring in lakes and rivers.