GSM - GPRS Telemetry Solutions
RS Hydro provide a range of GPRS / GSM telemetry solutions ranging from the A757 AMR telemetry logger with two digital inputs to the A753 with 40 SDI12/modbus inputs, 12 analog inputs, 4 digital inputs and 4 digital outputs. Our devices are self-sufficient and have no special requirements for installation. Our GPRS telemetry systems can upload at intervals from 1-minute to 1 year. If you require assistance in designing a wireless telemetry solution please contact one of our experienced technicians for a consultation or request a quotation via our quote cart system. We keep all of our telemetry units in stock and can offer immediate delivery.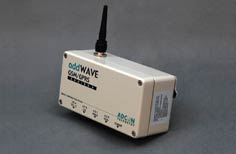 40 Channel SDI12/Modbus
12 Analog Inputs & 16bit resolution
4 digital inputs (up to 500Hz)
4 digital outputs
All-purpose RTU for monitoring almost any application.
View A753 Telemetry Logger >>
40 Channel SDI12/Modbus
2 digital inputs
Ideal for all SDI12/modbus based instruments/networks
View A755 Telemetry Logger >>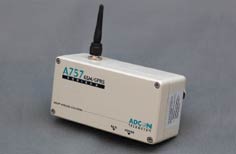 2 Digital Inputs
Ideal for Automatic Meter Reading, Flow Monitoring & Rainfall Monitoring
View A757 Telemetry Datalogger >>
A753 GPRS Telemetry Unit
The A753 is an extremely compact all round telemetry unit. It meets the most stringent requirements: high resolution, synchronous and asynchronous monitoring, quad-band GPRS modem, WMO compliance, and much more. It is an extremely rugged unit with a powder-coated aluminium case and an IP-67 rating.
For accurate analog communication with sensors The A753 features 12 0-2,5V inputs with 16-bit resolution. Most modern multi-parameter sensors for air and water quality come with a digital SDI-12 interface to increase compatibility and accuracy. The A753 can receive up to 40 SDI-12 values without any additional adapters.
In power-save mode the A753 can operate for six months without charging (depends on slot time and transmission rate), and has an operating temperature range from -30°C to 65°C.
RA440 - Bridge Radio RTUs to the GPRS Network
The RA440 bridges UHF RTUs to the GPRS network by utilising a built in 500mW UHF radio (as found in the A733 addWAVE RTU) and a Quad-Band GPRS modem (Motorolla). It then communicates via it's GPRS/GSM connection with the A850 telemetry gateway (which is the central control unit of our telemetry stations).
An RA440 can is ideal If you need to collect data from a remote area which is not covered by GSM, and if you have no place with mains power and internet or phone connection nearby to install an A850 Telemetry Gateway. It can be installed in the nearest area with available GPRS/GSM coverage, and can communicate via UHF with remote RTUs from this point. The RA440 uses the same NiMH batteries as the A753/A733 RTUs. If you need lots of power for frequent communication you can a second battery pack can be fitted inside the RTU, and a standard 12V battery can also be attached to its external power port. A single solar panel can charge the internal batteries.