Groundwater Water Quality & Sampling Equipment
Groundwater can be one of the hardest environments to monitor due to the associated access problems. RS Hydro offers a series of down hole water quality loggers and sensors for the measurement of pH, conductivity, dissolved oxygen and turbidity. Our Low Flow sampling kit also you to bring samples to the surface to provide groundwater samples without the need for purging.
Eutech Cond 6+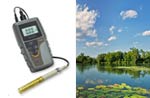 The Cond6+ is a no-frills handheld meter which is ideal for basic conductivity testing needs.
CyberScan pH 620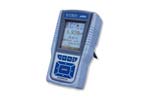 The CyberScan pH 620 measures pH and Ion with up to 0.001 resolution, the wireless and cable free data transfer with infrared IrDA technology. Large easy to read custom display with simultaneous readings provides optimum viewing with user-friendly icons.
EcoTestr EC High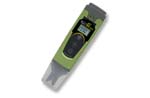 The Eutech EcoTestr EC High is a reliable easy to use pocket tester that gives quick, reliable conductivity measurements in a wide range of applications.
EcoTestr EC Low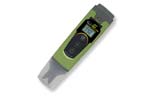 The EcoTestr EC Low is a sturdy piece of equipment ideal for using in a wide range of applications and guaranteed to give accurate results whilst on the go. This tester is the ideal EC Low conductivity pocket tester.
EcoTestr pH 2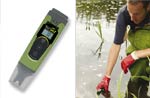 The EcoTestr pH 2 is designed to provide fuss-free measurements on the go, it is ideal for taking quick pH measurments in a range of applications, its measurement range is from 0.0 to 14.0 pull pH range. The meter is covered by a 1 year meter warranty.
EcoTestr Salt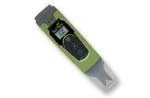 Measuring Salinity in a economical and quick way has never been simpler by using the EcoTestr Salt pocket tester. Delivering reliability even in harsh field conditions and a wide range of applications. This product is covered by a 1 year meter warranty.
EcoTestr TDS Low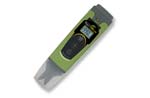 Eutechs EcoTestr TDS Low is the ideal choice if a reliable pocket tester is required, complete with sturdy stainless steel pin sensors this is the ideal low TDS tester for a wide range of applications such as hydroponics gardening, fish-farming, pools, electroplating and other water/wastewater applications.
EcoTestr TDS High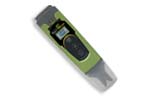 If you require a economical and easy to use Total Dissolved Solids tester the Eutech EcoTestr TDS High is the ideal choice. It accurately measures a wide range of applications with accuracy up to ±1% full scale.
EcoTestr pH 1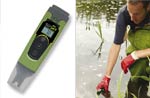 The EcoTestr pH 1 makes taking pH measurements a simple fuss-free process, superb accuracy is delivered by this value-for-money, quality pH tester. Measurements can be handled with from 0.0 to 14.0 full pH range.