Online Water Quality Monitoring Instrumentation
RS Hydro offer a comprehensive range of online water quality measurement solutions. We provide a total solution to water quality monitoring including the supply, installation, maintenance and calibration of water quality monitoring systems whether they are in remote locations or part of an industrial process application. We have installed anything from an online water quality sensor to a complete network of wireless telemetry systems and water quality instruments in the middle of the African jungle to a network of 15 high-specification water quality monitoring kiosks housing instrumentation worth a total close to £1 million. Please browse our range of online sensors, multiparameter sondes and water quality analysers & transmitters below: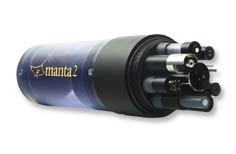 RS Hydro provide a range of water quality instruments and sensors with either integrated datalogging/power or ultra low powered single sensor/multiparameter water quality probes ideal for remote monitoring. Our instruments can be deployed for months at a time or indefinitely connected to real-time wireless telemetry such as the Adcon telemetry system. This allows you to have an online system in the remotest of locations i.e. the African rainforest! Our telemetry systems provide all the necessary power for the sensor and transmission of data.
View Field Datalogging Systems >>
Water Quality Instrument Suppliers
Our main manufacturers are Thermo-Scientific, Eutech and Eureka, all leaders in their fields. Thermo-Electron were founded in 1956 and Fisher Scientific in 1902. The two companies merged in 2006 to form one of the largest manufacturers of water quality instrumentation. Eutech is also part of the Thermo-Scienfic Group. Eureka were created in 2000 to provide a multiparameter water quality solution. Both companies now help to set the industry benchmark. In addition, we also supply various water quality datalogging devices from Solinst and INW including CTDs and TempHion sensors.

DataStick Online Water Quality Monitoring System
The DataStick system from Thermo Scientific is an online analytical measurement system for water quality and process monitoring and control applications. There are ten interchangeable "plug-and-play" sensor heads available for the system. These include pH, ORP, contacting & toroidal conductivity, resistivity, dissolved oxygen (ppm & trace ppb), dissolved ozone, drinking water & wide-range turbidity, suspended solids and free chlorine. Each sensor head provides 24-bit data and they can each be calibrated, configured or diagnosed via a computer system or PLC without the need for a intermediate analyser box, reducing the cost of installation.
Communitation adapters for the system are also "plug-and-play", interchangeable units. Adapters available include RS232, USB, Ethernet/IP, Modbus TCP, Modbus RTU, Profibus DPV0/DPV1 and DeviceNet. The optional AV38 offers a localized display for point of use measured value visualization
A full range of mounting accessories are available for the DataStick system. There include tees, union mounts, ball floats, ball valves, immersion hardware, sanitary fittings and sensor head wash units.

AquaPro Online Water Quality Monitoring Transmitters
The Thermo Scientific AquaPro Multi-Input Intelligent Process Analyzer is the first analyzer on the market that offers a highly flexible analysis platform for a wide range of process applications. The AquaPro's unique plug-and-play architecture makes it so simple to add new features and parameters. It accepts both up to 4 analog or digital water quality sensors and displays all the parameters simultaneously on a 3.4" colour display. The process transmitter supports all major communication protocols such as MODBUS, CANopen, Profibus, Ethernet and others. It can therefore be connected to almost any SCADA or telemetry system. Furthermore you can download up to 1000 datapoints via the USB port. The same USB port can be used for any firmware upgrades. The process transmitter is also constructed out of UV-stable polycarbonate therefore ensuring that it will last the distance in outdoor applications.

Field Water Quality Datalogging Systems
RS Hydro specialise in remote water quality monitoring systems. Typically such applications include low-powered water quality sensors such as the Datastick system or the CTDs (conductivity, depth & temperature sensor) from Solinst or INW. We also provide single- and multiparameter probes for most water quality parameters using the Manta2 sonde. These are available in a sub-2" diameter housing with power and datalogging. All of these water quality probes can be indefinitely connected to our wireless telemetry system.