Portable Handheld Conductivity Meters
RS Hydro stock a range of portable electrical conductivity meters for measuring conductivity and salinity in water/wastewater, environmental and industrial/process applications. Select one of the products below for more information or call our technical sales team on +44(0)1527 882060
EcoTestr EC High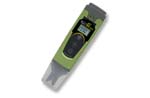 The Eutech EcoTestr EC High is a reliable easy to use pocket tester that gives quick, reliable conductivity measurements in a wide range of applications.
EcoTestr EC Low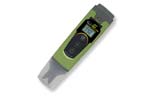 The EcoTestr EC Low is a sturdy piece of equipment ideal for using in a wide range of applications and guaranteed to give accurate results whilst on the go. This tester is the ideal EC Low conductivity pocket tester.
Eutech ECTestr 11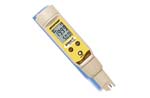 The ECTestr 11 is an accurate, user-friendly and long lasting pocket tester. It is now capable of measuring a wider conductivity range from pure water to waste water with a supporting accuracy of ±1% full scale accuracy. Rugged and waterproof to IP67 standards and the advantage of reduced operating costs with the benefit of user-replaceable sensors enables this tester to be used time and time again.
Orion Star A122 Conductivity Portable Meter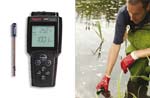 The Orion Star A122 Low Range Handheld Conductivity Meter is visually very clear and easy to use. The built in large LCD displays meter mode and battery life, conductivity or TDS readings along with temperature in °C or °F.
CyberScan CON 400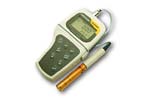 The CyberScan CON 400 is a IP67 rated waterproof and dustproof housed meter ideal for use in harsh rugged conditions, it is capable of measuring TDS in addition to conductivity and temperature in °C and °F. An expanded memory capable of storing and recalling up to 50 readings with temperature and automatic temperature compensation (ATC) ensure the highest accuracy under fluctuating temperatures.
Eutech Cond 6+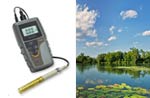 The Cond6+ is a no-frills handheld meter which is ideal for basic conductivity testing needs.
CyberScan COND 610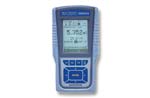 The Eutech CyberScan COND610 is an advanced meter with comprehensive multi-data screen display, user friendly set up menu and intuitive soft-key operation capable of measuring a multitude of applications quickly and accurately.
CyberScan COND 600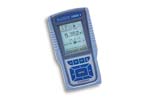 The CyberScan COND600 meter accepts and auto-detects 2-cell and 4-cell conductivity probes for pure water and wastewater applications ideal for a wide range of applications.
Orion Star A322 Conductivity Portable Meter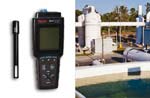 The Orion A322 Portable Conductivity Meter is the perfect option if advanced measurements are required on location. The large backlit graphic LCD clearly displays conductivity/TDS/salinity resistivity and temperature.