Turbine Water Flow Meters
RS Hydro liquid and water flow meters to the UK and worldwide. We stock water flow meters for every application (clear and clean water, waste water and process); from basic turbine meters to clamp on ultrasonic flowmeters. RS Hydro offer a wide range of both contact and non-contact water flow monitors irrespective of liquid type, viscosity or temperature. All our solutions are designed to achieve a combination of accuracy, performance, reliability and cost. Turbine water flow meters are ideal for clean water only. Select the most appropriate water flow meter from below: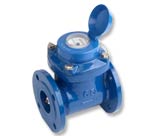 Woltmann meters available for hot and cold water flow measurement in sizes from 50mm to 500mm. All of our woltmann flow meters come with a digital pulse output cable.
IN STOCK
View Our Range Of Woltmann Flowmeters >>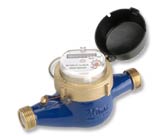 Single jet and multi jet water meters for a wide range of flow measurement applications. All of our multi-jet flow meters come with a digital pulse output cable.
IN STOCK
View Our Range Of Multi-Jet Flowmeters >>
Our service doesn't simply end with the specification and supply of liquid, gas and water flow meters. As an internationally respected flow measurement and instrumentation company, RS Hydro can provide a total solution which includes supply, installation, maintenance and calibration. In addition, we provide a comprehensive data telemetry system which can relay flow readings to anywhere in the UK instantaneously and automatically. As you can see our sights are firmly fixed on a total solution and 'best advice,' not on a 'sale!'
RS Hydro supply water flow meters from leading worldwide and UK manufacturers including, GE Panametrics, Siemens & Teledyne ISCO.
Turbine Flowmeters
Full bore turbine flow meters are suitable for hot and cold water applications. The impeller which is of modern design, rotates on stainless spindles mounted in the measuring chamber. The impeller is made of self-cleaning synthetic resin. The helix aligns with the pipe axis. The complete metering unit is easily removable from the meter body and is designed to ensure high flow-rate with the minimum headloss. Model Omega-We-Sdc is a super-dry dial type meter. The gears and the totaliser operate under vacuum in a dry compartment, only the helix is submerged in the water. The transition is achieved through a corrosion-proof permanent magnetic drive which is protected by the cast iron meter body from from external magnetic forces. Versions for warm water up to 90°C and telemetering (complete with a pulse output) are also available.
Single Jet and Multi Jet Water Flowmeters
Multi-Jet water meters are very accurate for small pipe sizes (typically 5/8" to 2" diameter). An impeller is contained in a central chamber with jets of water from multiple inlet ports rotating it. The speed of rotation of the impeller is relative to the flow rate through the pipe.
Electromagnetic Flowmeters
Electomagnetic water flow monitors provide excellent accuracy and long term stability. Temperature and pressure have no influence on electromagnetic flowmeters and RS Hydro's battery operated solutions enable water flow measurement applications to be fitted almost anywhere.
Ultrasonic Water Flow Meters
Non-Contact ultrasonic water flow meters make it possible to implement a water flow measurement solution with no operational downtime, no pressure loss and minimal installation cost. Suitable for use with most pipe materials and linings, and for pipe diameters from 10mm to 7000mm.